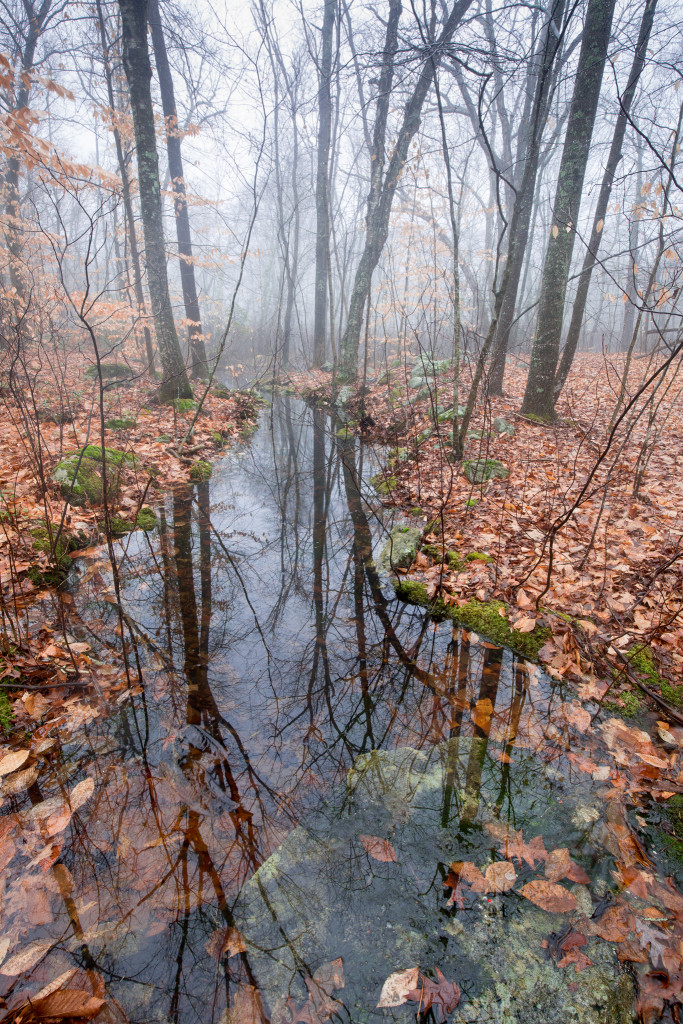 In the winter it can be virtually impossible to consistently find interesting subject matter because in many places, everything just looks dead. That's what makes Mother Nature's gimmicks helpful to spice things up. Snow and ice are always good at helping to create interesting material themselves or they can accentuate an already interesting composition. Another fairly common winter visual aid occurs when warming air temperatures hover over frozen ground. This will often create misty, foggy conditions that render an ethereal softness.
Conditions were just like this on January 4. I had to pick my daughter up from horseback riding and I knew I had to drive right through Chatfield Hollow State Park to do that. I left a little early to see if I could take advantage of the conditions.
This photo was taken about 200 yards from the road in the middle of a stream where bedrock created a small dam and the resultant pool in the immediate foreground. That pool generated a nice reflection of the trees that overlooked the stream and the usually muted greens of the mosses and oranges and yellows of the dead leaves "popped" a little with the diffuse light. I love the overall soft light of the image and the various spots of color in an otherwise "dead" scene.
Photo information:
Canon EOS 5D Mk. III
Canon EF 16-35mm f/4.0L IS USM
16mm, f/13, ISO 100, 1.6 sec.
Tripod and cable release employed