Monthly Archives:
March 2015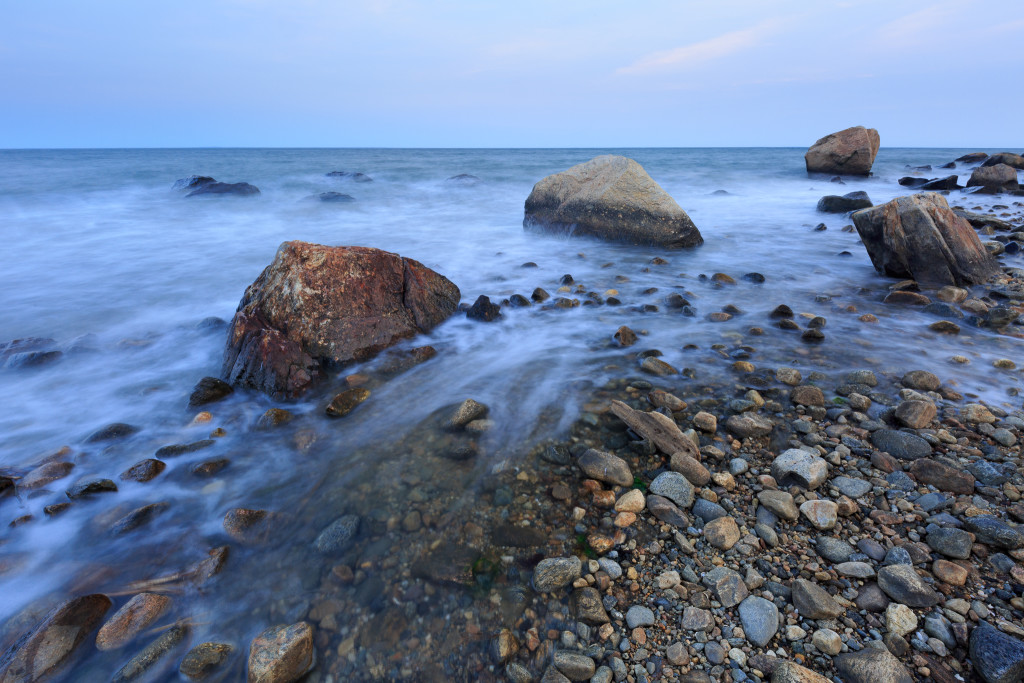 While I am fairly certain that most photographers are gearheads whether they admit to it or not, I also firmly believe that the gear is a distant second to simply getting out and shooting. I have no doubt that a talented artist could produce excellent results with a 110 film camera. That being said, there are pieces of equipment that seem to develop a well-deserved reputation for excellence almost as soon as they are available. The Canon 16-35mm f/4 L wide angle zoom is one such piece of gear. It was lauded as being one of the best, if not the best, wide angle zoom on the market at its release last summer. I took the plunge almost as soon as I could purchase it.
This shot was among my first taken with it on the day I received it. I wandered down to Hammonasset State Park on a rather dull, overcast evening that held very little promise of exciting picture-taking opportunities. However, I wanted to put the lens through its paces. This composition and image remains one of my favorite from last year. I am drawn to the manner in which the boulders pull you offshore and I love the serenity and many different tones of blue present in the image.
Photograph information:
Canon EOS 5D Mk. III
Canon EF 16-35mm f/4.0L IS USM
16mm, f/20, ISO 100, 4 secs., circular polarizing filter
Tripod and cable release employed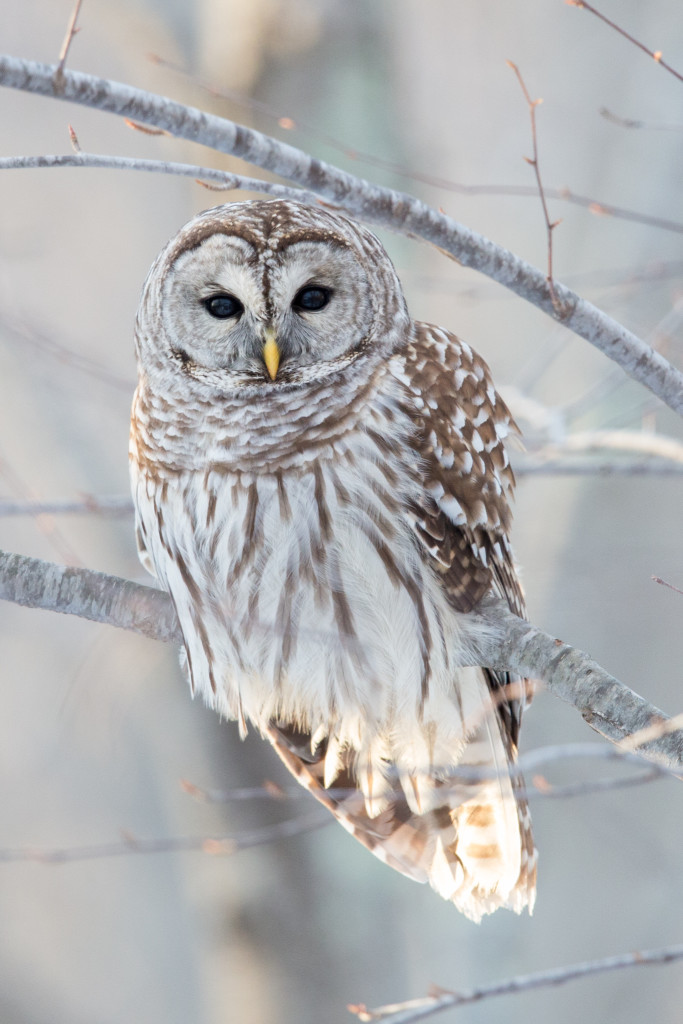 I am perpetually hearing, "you should have been here yesterday" or showing up to see a Snowy Owl that's been sighted for days on the day that it has decided to move on. Being in the right place at the right time is one of the few things that you can't control in photography (or life). However, being persistent can be controlled and that's how you make your own good fortune. Except when good fortune finds you. I have a feeder in my back yard and my back yard is forested for at least 100 yards. I have had a lot of traffic this winter – bluebirds, cardinals, finches, nuthatches, juncos, sparrows, woodpeckers, flickers plus others I am certain I am forgetting. I also see the occasional hawk in the neighborhood. No owls even though I have been hearing the "who cooks for you?" as long as I've lived here.
Imagine my surprise when I looked out one day a couple weeks ago to see this beauty. It has becoming a somewhat regular dawn and dusk visitor. I can even hear it faintly whispering, "let the cat out."
Photos have been difficult as the density of the branches makes it a challenge to get a clear view. This shot was okay, but not perfect in that regard and the late afternoon sun hitting its tail feathers is a little distracting, but I'm so happy to be treated to its visits that I don't mind the less than optimal photo.
Photograph information:
Canon EOS 5D Mark III
Canon EF 600mm f/4.0L IS II USM + Extender EF 1.4x III
f/5.6, 1/200 sec., ISO 1600
Lens rested on the deck railing for support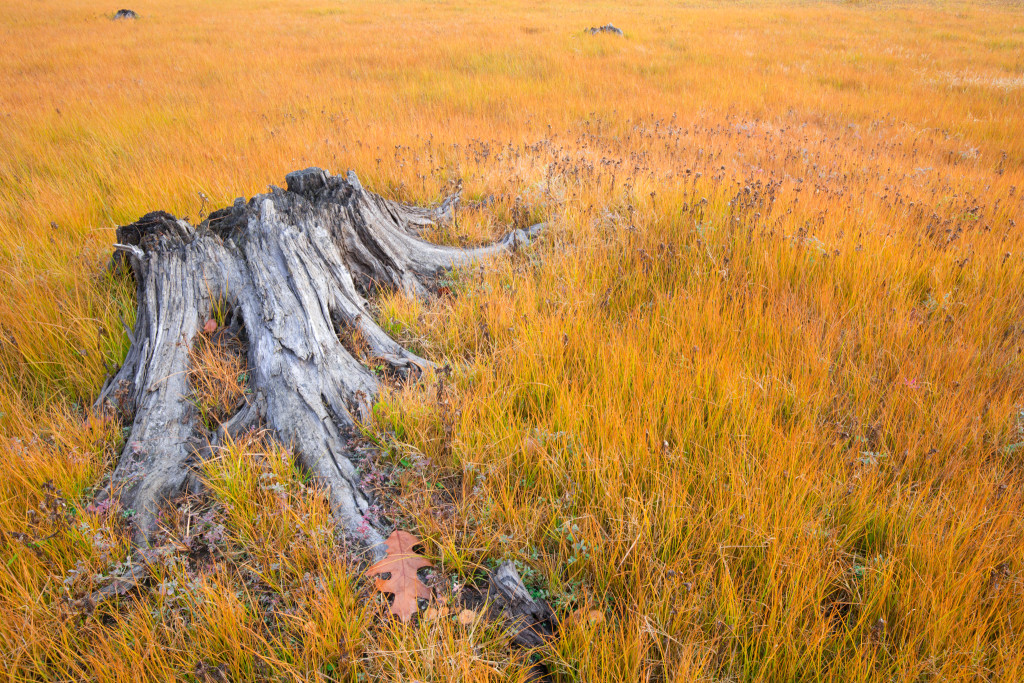 Full disclosure: I love this image. I know, it doesn't tick all of the boxes for a great landscape photograph. However, sometimes it doesn't have to for an image to connect. For me, I love the orange of the autumn grasses, the way the stump pulls you in with its roots, and the subtle colors tucked into the grass. A computer display doesn't do this image any favors, either. It really needs to be seen in a larger media, such as a print, to see all of the details and nuances.
Another thing I love about this image is that it was a very pleasant surprise. I had hiked around Lake Hammonasset (Madison/Killingworth, Connecticut) looking for some fall colors and, for the most part, came up empty-handed, as it was late October and most of the fall color had occurred. I was wandering aimlessly and hiked out on to the exposed lakebed (the water level is extremely low by autumn). I stumbled across this and it made the many miles hiked that morning worthwhile.
Photograph information:
Canon EOS 5D Mk. III
Canon EF 16-35mm f/4.0L IS USM
24mm, f/13, ISO 100, 1/3 secs.
Tripod and cable release employed