Monthly Archives:
June 2015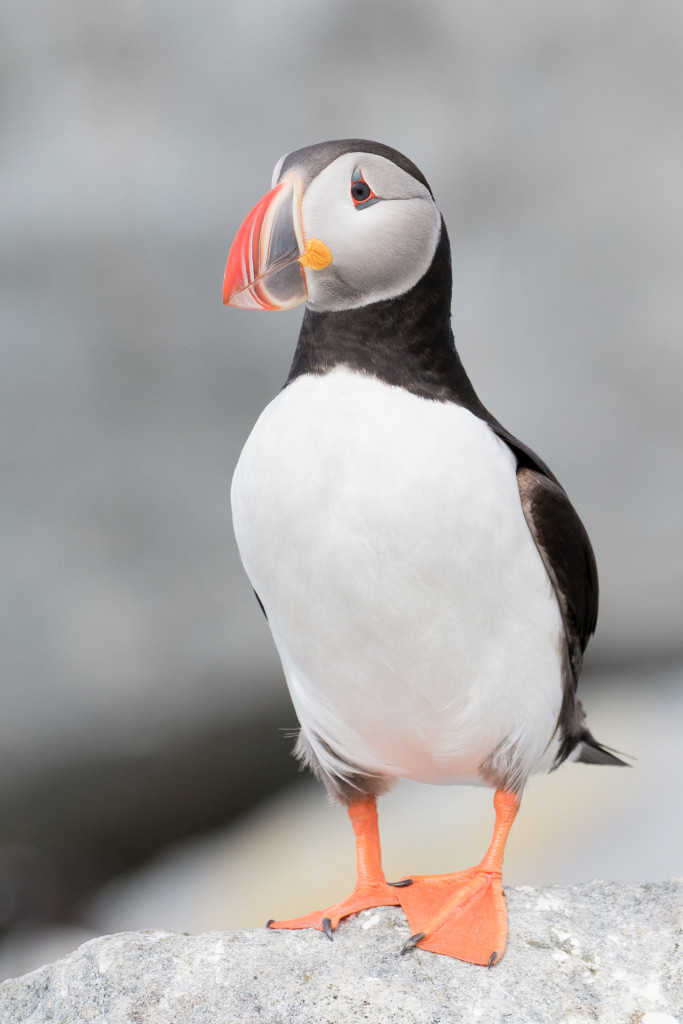 This past week, my son, my girlfriend's son, and I were treated to an amazing experience. We spent a few hours on Machias Seal Island, New Brunswick, observing razorbills, murres, terns, a lone Northern Gannett, and puffins, as well as seeing the fully functioning lighthouse. The trip was operated out of Cutler, Maine by Bold Coast Tours. I made the reservations back in late January to be sure we had spots (they are booked for the entire 2015 season already). We were extremely lucky, as it is not uncommon to make the ride out to the island, but not be able to land due to sea conditions. While it was a little chilly, conditions allowed us to land and spend a couple of hours in one of the blinds. Captain Andrew Patterson and his mate, Tyler, were not only gracious guides and hosts, but also provided a wealth of knowledge about the area's wildlife and history. I cannot recommend this trip highly enough. Being so close to these amazing and quirky birds should be a bucket list item for everyone.
Also, photographically speaking, once you are in the blind, you can capture images with only a medium telephoto lens, as the birds literally land and parade about right in front of you. The puffins and the razorbills were the most common, but there were many murres, terns, gulls, cormorants, as well as the aforementioned gannnett.
I will share more images over the coming weeks.
Canon EOS 7D Mark II
Canon EF 100-400mm f/4.5-5.6L IS II USM
ISO 640, f/5.6, 1/2000 secs. @ 255mm
handheld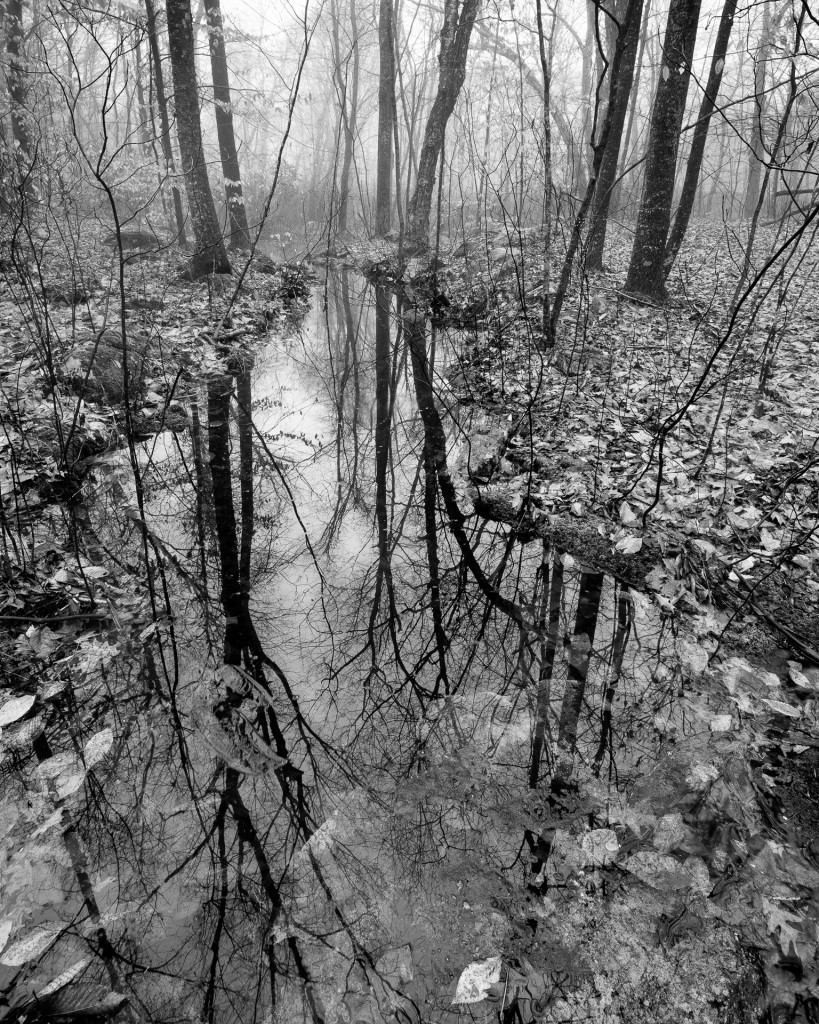 I periodically go back and scroll through my image library in Adobe Lightroom. Sometimes it's because I'm trying to find something particular and, at other times, I am just taking a stroll. I was strolling recently and came across this image. I had written about it in a different post and while I liked it as a color image, I wasn't crazy about it, meaning I wouldn't ever print it. As I was looking at it the other day, I thought that it might work as a monochrome. As soon as I made a copy and clicked the "Black & White" button in the Lightroom Develop module, I was hooked. I did a little more tinkering with things, but not much. The major changes were to accentuate the white portion of the water that draws you through the image and to crop the perspective from 2:3 to 4:5 to eliminate some of the top of the frame and its inherent imbalance due to the amount of white. I now really like this image and printed it. It holds up even better on paper than it does on screen. Sometimes it's a good thing to take a second look at things.
Image information:
Canon EOS 5D Mk. III
Canon EF 16-35mm f/4.0L IS USM
16mm, f/13, ISO 100, 1.6 sec.
Tripod and cable release employed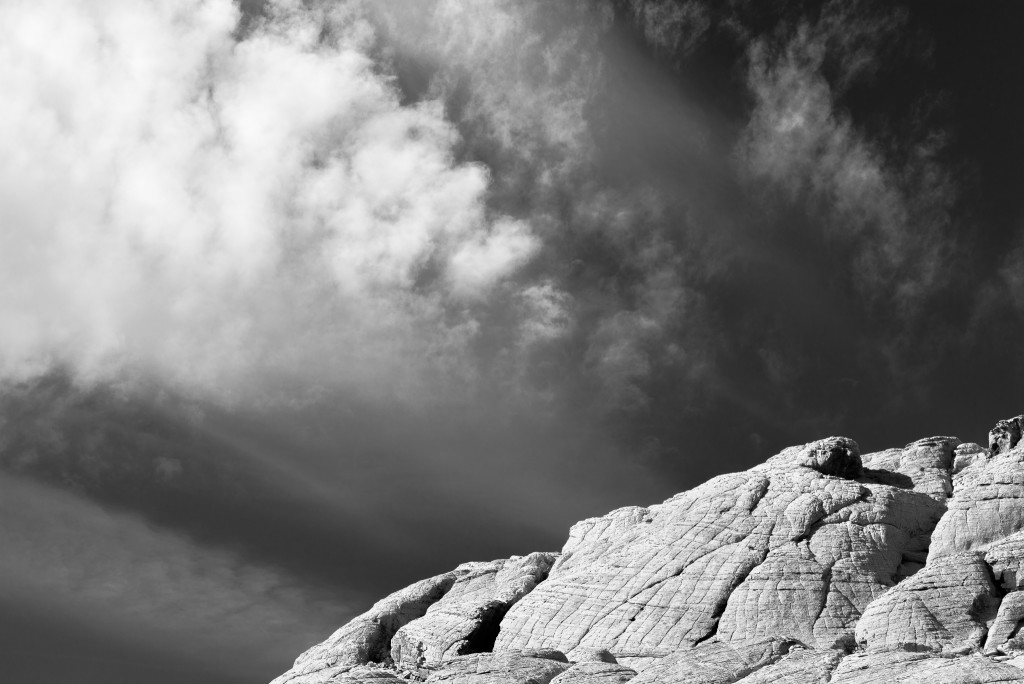 During my trip west a couple of months ago, I flew into and out of Las Vegas. One of the main reasons for this was knowing that Red Rock Canyon National Conservation Area sits just west of the city, practically abutting the western edges of Las Vegas. I was able to spend one afternoon and sunset session there and, given the dramatic rock formations and color, I intend to return. This relatively small area receives over one million visitors per year due to its proximity to Las Vegas and, naturally, because of its beauty.
This image is yet another example of the serendipity that occurs simply by being present. I was scoping sunset photo opportunities that would incorporate the few clouds lingering above and to the east. This shot occurred about an hour before sunset and the late afternoon light bathing the already light hued rocks, with their craggy, "old man's" face, juxtaposed against the clouds and dark blue of the sky, made for a great black and white photo.
In post processing, I darkened the sky even further (as one would have done in camera with filters in film days), and bumped up the overall contrast to create a striking scene. I love this image because it evokes the sense of a classic Western landscape photo.
Photograph information:
Sony A7r
Canon EF 100-400mm f/4.5-5.6L IS II USM and circular polarizer with Metabones IV adapter
100mm, f/11, 1/30 sec.
Tripod and remote release employed