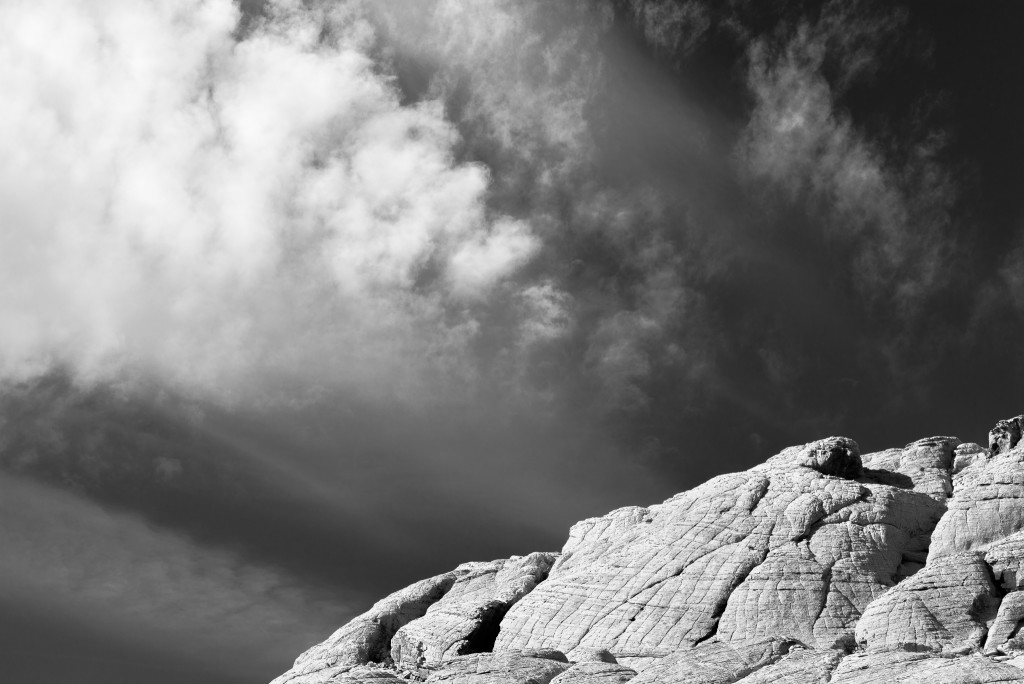 During my trip west a couple of months ago, I flew into and out of Las Vegas. One of the main reasons for this was knowing that Red Rock Canyon National Conservation Area sits just west of the city, practically abutting the western edges of Las Vegas. I was able to spend one afternoon and sunset session there and, given the dramatic rock formations and color, I intend to return. This relatively small area receives over one million visitors per year due to its proximity to Las Vegas and, naturally, because of its beauty.
This image is yet another example of the serendipity that occurs simply by being present. I was scoping sunset photo opportunities that would incorporate the few clouds lingering above and to the east. This shot occurred about an hour before sunset and the late afternoon light bathing the already light hued rocks, with their craggy, "old man's" face, juxtaposed against the clouds and dark blue of the sky, made for a great black and white photo.
In post processing, I darkened the sky even further (as one would have done in camera with filters in film days), and bumped up the overall contrast to create a striking scene. I love this image because it evokes the sense of a classic Western landscape photo.
Photograph information:
Sony A7r
Canon EF 100-400mm f/4.5-5.6L IS II USM and circular polarizer with Metabones IV adapter
100mm, f/11, 1/30 sec.
Tripod and remote release employed