Monthly Archives:
September 2015
I will be conducting a workshop on archival printing of photographs, geared towards DIY on a home printer. The workshop will be in conjunction with the Coastal Camera Club at their October meeting, Wednesday, October 7th at 7:00 PM at the Madison, CT Senior Center, 29 Bradley Road, Madison, CT (use exit 61 off I-95). The workshop will cover topics such as paper selection, some settings, profiles, workspace, archival (what it means and how to select archival materials) and other issues that may be raised.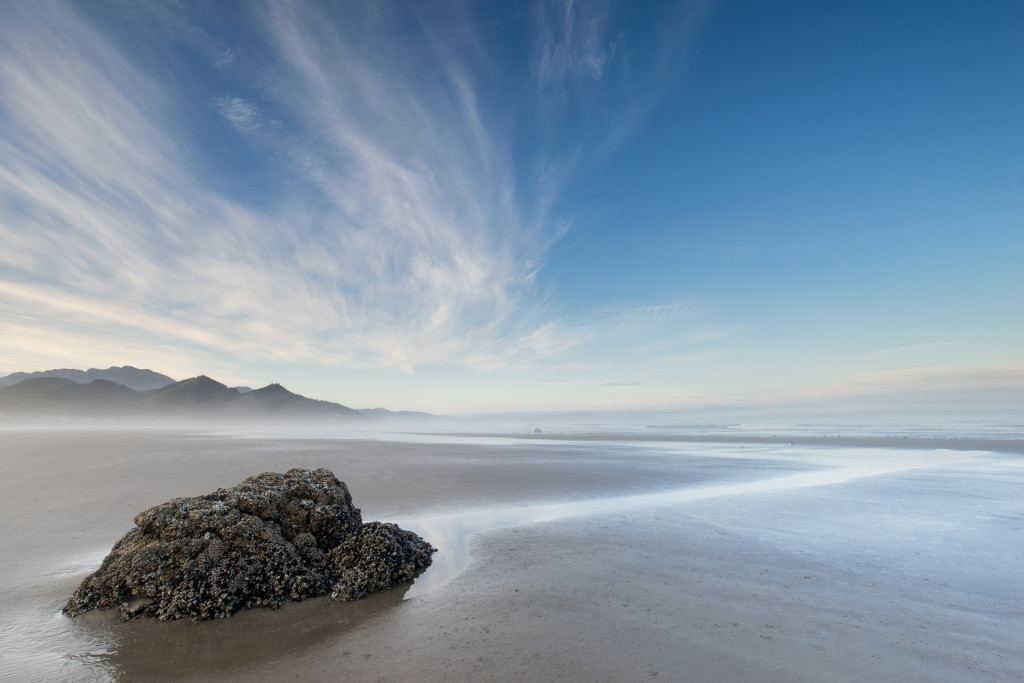 I recently spent a couple weeks in Oregon and Washington, including a two days along the coast near Cannon Beach and Ecola State Park in Oregon, due west of Portland. Cannon Beach is famous for its "haystacks", large rocks that sit squarely in the middle of the surf, dominating the beach like sentinels. I was out one morning prior to sunrise and captured a bunch of images. This is one that I particularly like. It was just after sunrise and the coastal fog and marine layer were still present around the hills and offshore (the cloud bank at right.) I love the wispy clouds that add some texture to the sky. For me, though, the key visual elements are the boulder in the foreground, with its barnacled surface, and the "lighted" path from it to the surf that creates a compelling visual journey into the image.
Interestingly, I believe this photo would work just as well as a black and white image and I will create an alternate in the digital darkroom. I will share that one at another time.
An interesting note: ALL Oregon beaches are public, for all to enjoy, and this right is protected through legislation. What a forward thinking idea!
Photograph information:
Sony A7r with Metabones IV adapter
Canon EF 16-35mm f/4.0L IS USM
16mm, f/13, ISO 100, 1/5 sec., Lee two-stop hard edge graduated neutral density filter
Tripod and cable release employed