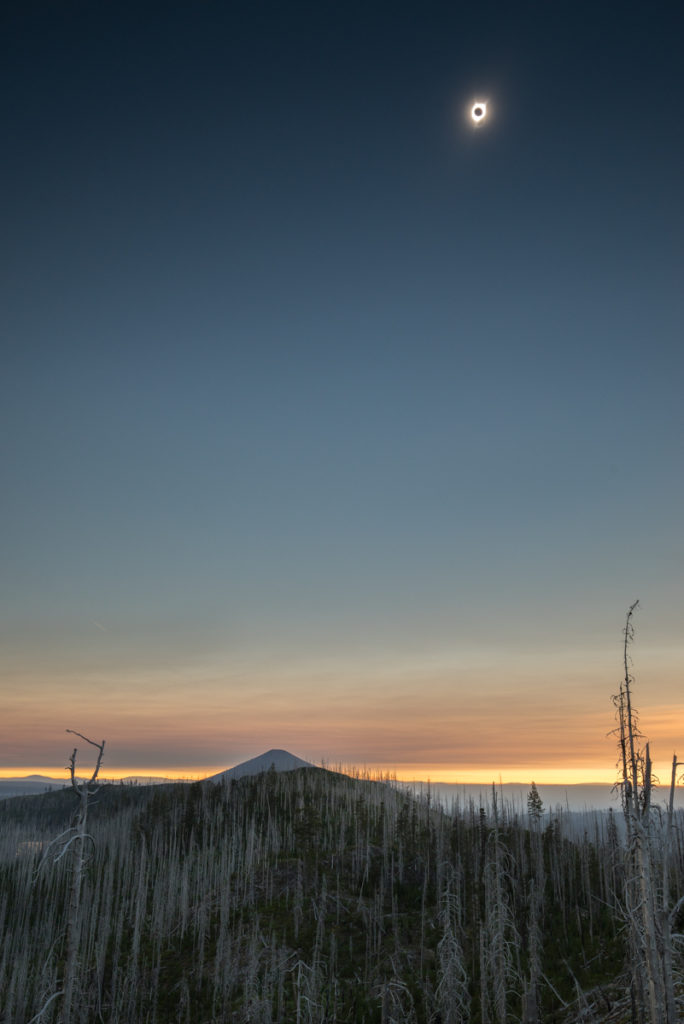 Like most of us, I was eager to see the eclipse. I was fortunate to be able to travel to Oregon for a viewing in "totality". Before I discuss the photograph that I took, I first want to stress in the strongest possible terms what an amazing experience it was. The only way to convey how sublime it was is to say that it is a post-event addition to the bucket list. If you did not see it or have no plans to see one in the future, figure out a way to make it happen. It lasts for a matter of a few short moments, but the effect is spectacular and will last a lifetime.
About the photograph… I did everything by the seat of my pants, meaning I did not do any research about photographing eclipses in advance. I know… pretty dumb, huh? However, I knew in my mind's eye that I wanted to capture some detail in the foreground, whatever that foreground looked like. When I left Connecticut to travel to Oregon, I had no idea where I would be for the eclipse. I just knew I would be there with friends who live in Bend. Back to the foreground. I figured I would use two 3-stop split neutral density filters to bridge the gap between the sky and foreground. If you're not familiar, a split neutral density filter has clear glass on one half of the filter and darkened glass on the other half. The greater the number of "stops" means the greater contrast between the clear and darkened areas. Three stops is generally the max, so stacking two to create a 6-stop differential is pretty extreme. The location? The Pamelia Lake Trail on the Pacific Crest Trail in the Mount Jefferson Wilderness, Willamette National Forest in Oregon.
The result is shown at the top of the page. I ended up lightening the foreground about another one stop in Lightroom to create what you see here. I am fairly happy with the results. Granted, it's not a contest winner, but it does effectively capture an event that I will remember forever and I was able to witness it with my teenage son and friends (who are more like family), making the photo special for the shared experience.
Photo information:
Sony A7r w/Canon 16-35mm F/4.0L IS USM
29mm, ISO 800, 15 secs., two Lee Filters 3-stop graduated Neutral Density filters, one soft edge and one hard edge (those are the two "flavors" that I own)
Tripod and cable released employed