Category Archives:
Gear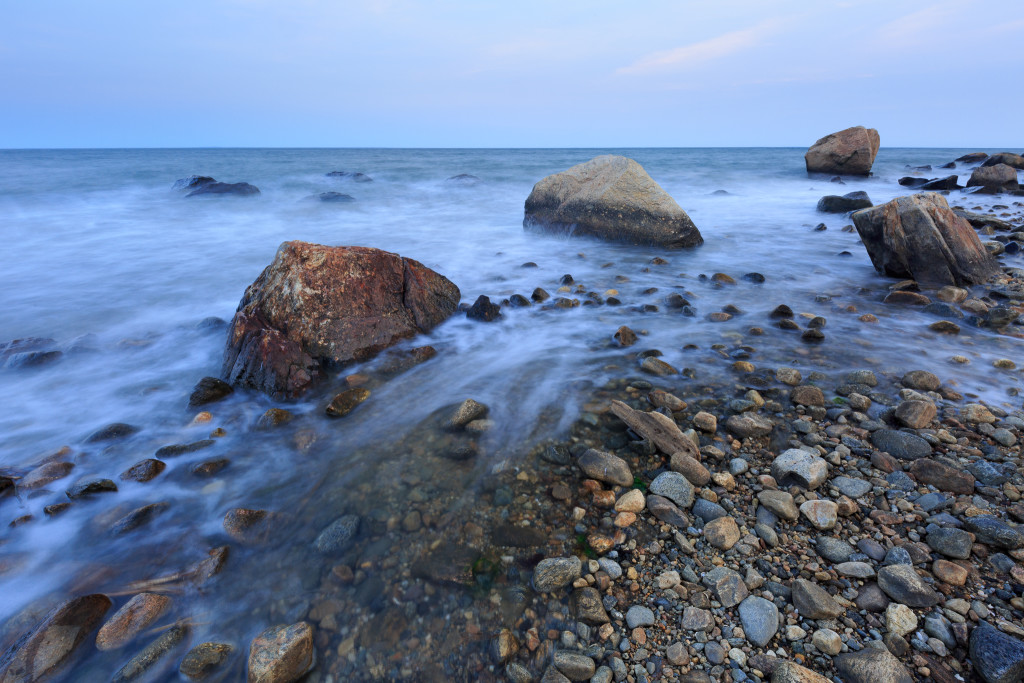 While I am fairly certain that most photographers are gearheads whether they admit to it or not, I also firmly believe that the gear is a distant second to simply getting out and shooting. I have no doubt that a talented artist could produce excellent results with a 110 film camera. That being said, there are pieces of equipment that seem to develop a well-deserved reputation for excellence almost as soon as they are available. The Canon 16-35mm f/4 L wide angle zoom is one such piece of gear. It was lauded as being one of the best, if not the best, wide angle zoom on the market at its release last summer. I took the plunge almost as soon as I could purchase it.
This shot was among my first taken with it on the day I received it. I wandered down to Hammonasset State Park on a rather dull, overcast evening that held very little promise of exciting picture-taking opportunities. However, I wanted to put the lens through its paces. This composition and image remains one of my favorite from last year. I am drawn to the manner in which the boulders pull you offshore and I love the serenity and many different tones of blue present in the image.
Photograph information:
Canon EOS 5D Mk. III
Canon EF 16-35mm f/4.0L IS USM
16mm, f/20, ISO 100, 4 secs., circular polarizing filter
Tripod and cable release employed
Note that these images are presented for illustration of the capabilities of this lens and are minimally edited.
I have been itching to shoot the new Canon EF 100-400mm f/4.5-5.6L IS II USM since I received it about a month ago (I received it mere days after returning from Bosque del Apache, which would have been an incredible place to take it for a test run.) Unfortunately, the weather has been extremely cold and dreary here in Connecticut and there have not been enough bird and wildlife opportunities to fully put it through its paces (I'm saving the scenic and landscape shots for the grander vistas of the West in late March). However, I did have the better part of a day available to me during a long weekend in Florida that seemed like a promising locale. I went to the nearest likely spot, the Ulumay Wildlife Preserve near Merritt Island. Before getting into the details of the results of that day, it is important to lay out my initial expectations for this lens.
Prior to purchasing the 100-400, the longest lens in my kit was the EF 70-200mm f/2.8L IS II USM, excepting my 600mm, which is seemingly a couple orders of magnitude further out on the spectrum and also in its own weight class, and thus in its own class compared to my other lenses. While I found the quality of the 70-200 to be exceptional, there were two drawbacks for my own personal use. I do not like the tradeoff of the f/2.8 maximum aperture with its accompanying weight. I also wanted a longer focal length than the 200mm maximum of the 70-200. Yes, extenders are an option, but are not the best option for me (more on that below in my "wants and needs".)
Wants and needs:
A lightweight lens relative to its focal length range
A high maximum focal length, e.g. 400 mm, in a lightweight lens
High image quality (duh)
Lens collar with tripod mount for scenery and landscapes
Dual function for both scenery/landscape and wildlife, particularly as a "single source" lens for backpacking trips
Robustness and weather sealing commensurate with the 'L' designation
Upon opening the box, I had a few initial reactions, all positive. First the lens possesses a fit and finish that is solid and tight, as you would expect with a professional caliber lens. Anything that rotated was smooth and solid, with no play. In particular, I like the rotating zoom (as opposed to push-pull) and also the fact that it can be adjusted to suit one's individual tastes in terms of looseness or tightness of the zoom mechanism. I also appreciate the detachable tripod mounting foot. The lens hood, with a "window" to allow operation of a circular polarizer is a nice touch. Finally, when fully extended to 400mm the lens possesses a nice balance, making hand-holding quite easy, even for long periods of time. It felt much better balanced, to me, than the 70-200 felt.
My in the field assessment is broken into parts, with this installment being Part One, focused on wildlife (or more specifically birds), with scenery to follow in early April after my trip to California, and a third installment after I have had time to shoot flowers and insects in an almost, but not quite, macro mode (this lens will not focus 1:1, but will work for subjects such as large flowers and insects like butterflies, where a closeup image is not necessarily a 1:1 reproduction).
A few caveats:
I am not doing a lens test, per se, as I do not have the equipment, time or inclination. Nor am I doing lens comparisons. I am simply providing my experiences and opinions. Your mileage may vary, particularly if this lens is not suited to your personal needs. It is a tool; no more no less. Just as you wouldn't use a hammer if you need a screwdriver, you shouldn't give this lens a bad review because you shoot wide angle landscapes. It's not the tool for that job.
I did not perform any AFMA (autofocus micro adjustment). I will, but just have not done so yet. However, I have to say that out of the box, I was not disappointed. Also, if you are not familiar with AFMA, I won't go into a discussion of what it is. I will state that if your camera body can accommodate it, and you have problems with sharpness with a specific lens, the problem may not be the lens. Do some research before you give up on a lens. The problem may be calibration and not quality of the lens and/or body.
All images were shot on a Canon EOS 7D Mark II. This lens on that body yields an effective zoom range of 160-640mm (100-400 x 1.6 = 160-640).
There were definitely instances where the focal length was challenged and had I been shooting for "results" instead of just shooting all subjects with this lens, I would have switched to the 600mm to "fill the frame". I did not, and some of the images are "soft" not because they lack sharpness, but because there simply are not as many pixels on the image's subject as one would normally prefer. I cannot fault the lens in situations where it is not the right tool for the job.
The first thing I noticed based upon my experience, particularly at the long end of the range, is how much I miss that extra stop provided by the 600mm. Having that f/4.0 vs. f/5.6 means differences in image quality, shutter speed or both. There is no way to get around it, so you need to be aware of it. In the summer months where there is more light available, it is not as much of a factor. In these dark winter months with the sun low on the horizon and more dreary, cloudy days, I find myself starved for light. That extra stop would go a long way. In Florida, the sun was higher (after the rain mentioned below) and the light was not an issue once the sun came out. I suspect that had I been able to take this lens to New Mexico, I would have drawn the same conclusion as the sun was higher there and the weather was less dreary.
I found the image quality to be extremely good, particularly in instances where the subject came close to filling the frame. The images are sharp, with good contrast, no aberration, and relatively even light across the frame. In instances where there is good detail, it is captured sharply and effectively rendered onscreen once the images are imported. I am thrilled with the overall sharpness and I suspect that any sharpness produced through AFMA will be gravy.
The other positive is the focusing of the lens. Once I had the subject in the frame, there was no hunting (except as noted below). The image snapped into focus quickly, and was held in focus as I tracked the subjects. The two instances where I had issues are not unique to this lens. The first is where a bird is on the water bobbing up and down with high contrast light and dark ripples that grab the attention of the autofocus away from the bird. The other issue is when tracking a bird across a background that is "busy" and therefore drawing the attention of the autofocus away from the main subject. This only happened in instances where the subject was not the main subject in the image, meaning situations where the focal length of the lens was too short for the main object, creating scenarios where the subject focus could be "lost" among competing colors and contrast. In all other situations, I feel that the lens focus performance was excellent. For the record, I used Single-point Spot AF for still subjects and Zone AF for moving subjects.
I will note that while I was photographing at Ulumay, I was caught in a brief downpour in the midst of some steady rain. I was out on a trail with nowhere to hide and the lens (and camera body) both became quite wet. There were no ill effects on performance. I kept the lens hood in place and the front element remained dry (while everything else was soaked!) The image of the Tricolor Heron was recorded in the rain and the bird was shaking off the moisture as best as it could.
My overall experience is that this lens represents an excellent tool for the first test that I have put to it. Under the right circumstances, it yields excellent results. There is no doubt that it will not replace my 600mm for many birding applications, but for situations where the subjects are  too close for a 600 or where I simply cannot haul the 600, it is a great option that will produce high quality results. As stated previously, my biggest bugaboo is the f/5.6 maximum aperture at 400mm. However, I am certain this will be less of a factor as the days get longer. I can't wait to try it on my Western trip where the vistas are larger and also next summer when the butterflies and hummingbirds are back. I am very happy to have traded it in as a replacement for the 70-200. If you are seeking a relatively light lens for wildlife and large insects or landscapes where the obstructions are few and the vistas grand, it could be a great choice for you, especially if you are a backpacker carrying more than just photo gear. It is for me.
Strengths:
Extremely useful focal length range
Relatively light weight
Image quality
Focusing speed
Build quality
Weaknesses:
Challenged in less than optimal light